Retrovian Empire
Talk

2
10,426pages on
this wiki

Retrovia, an empire that was once the center of every thing in time. The Greeks, Romans and more ancient people were included into the pantheon of the fictional world. The whole planet is called ParaEarth a planet that has everything from the time of the dinosaurs to the present. The people of ParaEarth are alike in some ways.
Nowadays, the world of the Retrovian Empire has rather broken down. Immense disorder encompasses the world, and this great amount of entropy is only sustained by the constant absorption of reality from other worlds. The Retrovian Empire now sits on a massive range of other 'chunks' that it had subsumed, but even so, these annexed portions of reality are starting to suffer from the world's entropy and are breaking down as well. This is clearly an old and exhausted world. Some day the entire, far-flung Empire will become a dead world.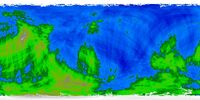 Government
Edit
Retrovia came under the Retronomic Empire and before then they lived in tribes. Then came the Age of Reasoning about 1000 A.D. The Retrovians set up the Burgas as a form of local government in Lorica. The Supreme Chamber of Retrovia is the upper house of legislation Civitas as well. L
The provincias or regions that includes the realm are here:
See also
Edit
Terra ut servo in incrementum in amplitudo Latin meaning "Land that keeps on growth in size"