Rjebidife mesnej
Area
357.6 km²
Population

Density
254,800
Ranked 11th
712.5/km²
Mayor
Isem Magensem
Elevation
4 m MSL (City Hall)
Coordinates
62°46min38sec N, 26°53min06sec E (City Hall)
Rjebidif is the provincial capital of Rjebok. It is the most important economic center in North Ardenjost.
Statistical areas
Area I: Ceskoz (Center)
Population 42,900
Area 43.0 km²
Notable things in I D. include Town Hall, Central railway station, Provincial Hall and Rjebidif harbour.
Area II: Hastarkes
Population 56,100
Area 45.9 km²
The main suburbs in this area are Hastarkes and Ilaytranat. The area contains also the Rjebidif University Hospital.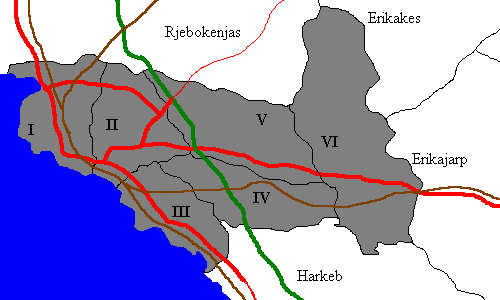 Ad blocker interference detected!
Wikia is a free-to-use site that makes money from advertising. We have a modified experience for viewers using ad blockers

Wikia is not accessible if you've made further modifications. Remove the custom ad blocker rule(s) and the page will load as expected.