Robert Kenneth Jones, universally referred to as Robbie Jones (b. February 15, 1961) is a Georgeland politician, a member of the Georgeland House of Commons for the seat of Lincolnshire and currently Deputy Prime Minister of Georgeland, Minister for Climate Change and Leader of the Georgeland House of Commons in the Cabinet of Georgeland of Lawrence Porter.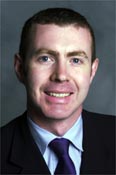 Jones was elected to the House of Commons as a Democrat in 1997. Jones was a centrist Democrat, part of the small but vocal group of moderates inside the generally leftist party. In 2001, he was appointed Deputy Whip to Daniel Rudolph; traditionally, the junior coalition partner, the Democrats, recieved the deputy whip position.
In 2004, Jones joined the new Liberal Democratic Party of the United Islands when the Democrats merged with the Liberals. Jones retained his job as deputy whip.
Following the 2005 election victory, Jones was promoted to Chief Whip when Rudolph entered the ministry. He remained Chief Whip when Mrs. Parker became PM in September. Jones was appointed by Robin Sales to the position of Shadow Minister for Trade when the party lost office in 2007. Jones had campaigned for and supported Andrea Perkins' leadership bid. In 2009, when Sales was replaced by Lawrence Porter, Jones was appointed as Deputy Leader and became Shadow Minister for Trade. He continued in this capacity until the Liberal Democrats were elected to office in August 2010, when he became Deputy Prime Minister. In February 2011, Jones announced the government would increase its carbon emissions targets to 30% by 2025, in line with its election promises.
Ad blocker interference detected!
Wikia is a free-to-use site that makes money from advertising. We have a modified experience for viewers using ad blockers

Wikia is not accessible if you've made further modifications. Remove the custom ad blocker rule(s) and the page will load as expected.