Royal Navy of Europa
Talk

4
10,419pages on
this wiki
The Royal Navy of Europa (RN) is the seafaring branch of the Armed Forces of Europa and is one of the largest in the world. All naval ships carry the prefix NR, which stands for Navire Reale (Royal ship, in Italian).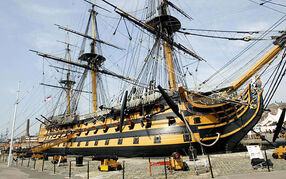 The RN was established in 1959 as the Europan Navy, it received the "royal" in 1964. Throughout the 1970s and 1980s it expanded its numbers to ensure protection for themselves and other
Non-Aligned Movement
nations. The navy has not seen any combat since its founding, though it is participating in the
Coalition War on Libya
.
Fleets and bases
Edit
| | |
| --- | --- |
| | NR Guglielmo Marconi (Dalmatia-class patrol boat) |
| | NR Valtazar Bogišić (Adriatic-class missile cruiser) |
| | NR Tirana (Ionian-class frigate) |
| | NR Domitian (Constantine-class stealth submarine) |
| | Trieste-class Submarines: A set of deep-submergence vehicles which can travel under water, at large depths, without having to resurface often. |
| | NR Ruder Bošković (Dubrovnik-class stealth ship) |
| | NR Giuseppe Garibaldi (Garibaldi-class carrier)- 3 in operation |
| | NR Conte di Cavour (Cavour-class carrier)- 2 on operation |
| | NR Leonardo da Vinci (Da Vinci-Class carrier)- 1 in operation |
On top of these the Royal Navy operates other craft, including hospital ships (Nene Tereza-Class) and other (usually unarmed) mystery ships and stealth craft.
The Amphibious tactical forces (AMTACT) are an elite strike and assault force, equivalent to the US marines. They are composed of around 1000 men who can fight both on land and at sea. AMTACT troops specialize in underwater/amphibious warfare and assault, guerilla warfare and are capable to fight in urban areas.