Sam Dalton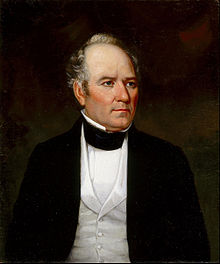 1st  President of Eldorado
Sept. 3, 1854 - March 3, 1864
Vice President : Solomon Cazar
Personal Details
Born : October 20, 1801
Stetson City, British New Penzance
Died : July 14, 1871
Oak Hill, Navasota, Eldorado
Resting place : National Pantheon, Winchester, FT
Political Party : None
Spouse : Agatha Dalton
Religion : None, Agnostic
Samuel Josiah Moses Dalton, "Sam Dalton" was the first President of Eldorado (1854-1864), the leader of the Eldorado Liberation Movement, the leader of the Rebellion and one of the founding fathers of the Republic of Eldorado. 
Ad blocker interference detected!
Wikia is a free-to-use site that makes money from advertising. We have a modified experience for viewers using ad blockers

Wikia is not accessible if you've made further modifications. Remove the custom ad blocker rule(s) and the page will load as expected.