The iSAN or Santana Index (Portuguese: Índice Santana) is an index of about 30 stocks that are traded on the Santana Stock Exchange.
Overview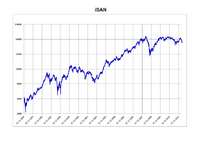 The index is composed by a theoretical portfolio with the stocks that accounted for 80% of the volume traded in the last 12 months and that were traded at least on 80% of the trading days. It's revised quarterly, in order to keep its representativeness of the volume traded and in average the components of iSAN represent 70% of the all the stock value traded.
The iSAN is an accumulation index. Its index number represents the present value of a portfolio begun on 2 January 1974, with a starting value of 100 and taking into account share price increases plus the reinvestment of all dividends, subscription rights and bonus stocks received.
The index has been adjusted as follows:
1 – division by 100, on 3 October 1983
2 – division by 10, on 2 December 1985
3 – division by 10, on 29 August 1988
4 – division by 10, on 14 April 1989
5 – division by 10, on 12 January 1990
6 – division by 10, on 28 May 1991
7 – division by 10, on 21 January 1992
8 – division by 10, on 26 January 1993
9 – division by 10, on 27 August 1993
10 – division by 10, on 10 February 1994
11 – division by 10, on 3 March 1997.
Criteria for inclusion in the portfolio
The iSAN is composed by the stocks that must meet the criteria as stipulated by the exchange:
They should have been traded on the exchange in the past twelve months.
To be included in the group of stocks whose negotiability indexes added represent 80% of the total value of all individual negotiability indexes.
The trading share of the stock should be higher than 0,1% of the total share flow in the exchange.
More than 80% of the shares of the stock must be traded on the exchange.
For a list of the components of the index, check the article List of companies traded at BVS.
Ad blocker interference detected!
Wikia is a free-to-use site that makes money from advertising. We have a modified experience for viewers using ad blockers

Wikia is not accessible if you've made further modifications. Remove the custom ad blocker rule(s) and the page will load as expected.