Skandinavisk Bakkestryker
Talk

23
10,415pages on
this wiki
Skandinavisk Bakkestryker

The Bakkestryker's seal
Founded
1985
Country
Imperium Skandinavisk
Allegiance
HM the Monark
Branch
Army
Type
Ground based
Role
Land based assaults and defensive measures
Size
162,120 personnel (2011)
Part of
Skandinavisk Forsvaret
Bakkestryker Central Command Location
Stockholm
Nickname
Bakkehammer
Motto
För Nåd Kungligheter
Colors
Red, Yellow, and Deep Blue

    

    

    

Mascot
Hammer
Commanders
General of the Bakkestryker
General Berndt Grundevik

The Skandinavisk Bakkestryker is the ground combat arm of the Forsvaret. They operate land based missions, and are the largest arm of the entire military. Ceremonially, the Konge is the hereditary leader of the Army, but officially General Berndt Grundevik is the leader.
Organization
Edit
The bakkestryker is organized into twenty four regiments, each with either a base or military station. Each regiment has special components which are then divided into a squad. Squads are the smallest organization unit in the bakkestryker, and thus are formed on the availability of soldiers. Squads are headed by sergeants, and the sergeants each have a certain responsibility over that squad. Squads are usually formed when there are ten people extra in another squad. The maximum amount of people in each squad can be twenty to twenty-five based on the current status of the country. Each squad receives one transport truck and four armored attack cars.
Regiments
Edit
| | Regiments | Location | Commanding Colonel | Forces Active | Sector |
| --- | --- | --- | --- | --- | --- |
| 60px | 1st Swedish Regiment | Stockholm Military Complex | Colonel Cecilia Ingemarsson | 20,120 | SVEA-CENTRAL |
| 60px | 2nd Swedish Regiment | Karlstad Army Base | Colonel Christer Malmm | 6,000 | SVEA-SORGE |
| 60px | 3rd Swedish Regiment | Boden Army Base | Colonel Dag Byström | 6,000 | SVEA-NORDE |
| 60px | 4th Swedish Regiment | Umeå Aero-Ground Complex | Colonel Susanne Nilsson | 6,000 | SVEA-NORDE |
| 60px | 5th Swedish Regiment | Gothenburg Army Base | Colonel Pernilla Engström | 6,000 | SVEA-SORGE |
| 60px | 1st Norwegian Regiment | Akershus Fortress | Colonel Finn Danielsen | 20,000 | NORG-SORGE |
| 60px | 2nd Norwegian Regiment | Sør-Varanger | Colonel Ove Leonardson | 6,000 | NORG-NORDE |
| 60px | 3rd Norwegian Regiment | Tronheim Army Base | Colonel Toril Rolvsson | 6,000 | NORG-SORGE |
| 60px | 4th Norwegian Regiment | Losna Ground Naval Complex | Colonel Alfred Knutson | 6,000 | NORG-SORGE |
| 60px | 5th Norwegian Regiment | Stolport Complex | Colonel Alf Sørensen | 6,000 | NORG-NORDE |
| 60px | 1st Danish Regiment | Slagelse Army Base | Colonel Malthe Skovgaard | 20,000 | DANSK |
| 60px | 2nd Danish Regiment | Hadrslev Army Base | Colonel Knut Klassen | 6,000 | DANSK |
| 60px | 3rd Danish Regiment | Skive Army Base | Colonel Jørgen Frederikson | 6,000 | DANSK |
| 60px | 4th Danish Regiment | Kollund Military Complex | Colonel Edvard Matthiassen | 6,000 | DANSK |
| 60px | 1st Icelandic Regiment | Reyjavik Military Complex | Colonel Hallbjörn Leifsson | 6,000 | ISE-GRØNNE |
| 60px | 2nd Icelandic Regiment | Berunes Naval Base | Colonel Brynjar Sigurdsson | 6,000 | ISE-GRØNNE |
| 60px | 3rd Icelandic Regiment | Akeryuri Army Base | Colonel Sigrún Hilmarsson | 6,000 | ISE-GRØNNE |
| 60px | 1st Greenlandic Regiment | Nuuk Military Complex | Colonel Rikard Akselsen | 6,000 | ISE-GRØNNE |
| 60px | Svalbard Military Garrison | Longyearbyen Military Complex | Colonel Audhild Arnesen | 6,000 | NORGE |
The Bakkestryker is separated into several commands that have a specific designation over a certain sector. These commands are not limited to these sectors, with only four primary commands existing. These four commands are ODINCOMMAND, the entire Forsvaret's high command, THORCOMMAND, which is the composite identification of all Sectional commands, LOKICOMMAND, which is designation used by the SONII when operating with the military, and SKADICOMMAND is the name of the command that does not operate in a sector but instead organizes the use of the Skandinavisk Imperial Guard. Although the Imperial Guard is not apart of the Forsvaret, their command operates under ODINCOMMAND.
Skandinavia is divided into military sectors for easy mobilization and combat efforts. These sectors are comprehensive in military designation, and one or more regiments are usually stationed strategically in them for total defensive purpose. The sectors can divide entire provinces into smaller sections, of which military regiments can then form balanced impact measures to effectively eliminate enemy units in the area. Sectors are determined by the availability of troops for the province, and are divided as so. The only province that is entirely in one sector by itself is Denmark, due to its size and importance as the capital province. Sectors have their own commands, but follow the basic command structure determined in the Forsvaret's doctrine. For example, the DANSK sector's head command is DANSKSECTIONAL, and under that command operates various strategic commands. These commands then control individual regiments, as done in other military sectors of the country. The only sector not following this routine is the SVERG-CENTRAL sector, which only contains one regiment due to its economic, cultural, and strategic importance. All sectors can be overridden by ODINCOMMAND, and their power ultimately assimilated for large scale efforts.
Structure
Edit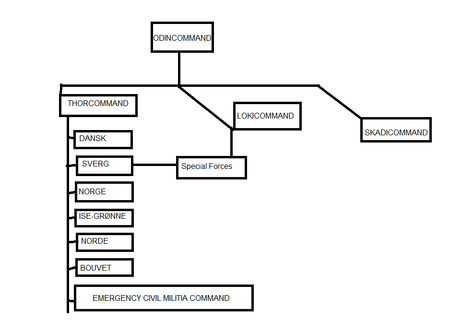 Insignia
Title
Private
Sargent
Lieutenant
Colonel
Commander
General
Abbreviation
PVT
SRG
LUT
COL
CMD
GEN
Equipment
Edit
Skandinavia only imports a small amount of military equipment, but Skandinavia's government is working on becoming independent of foreign suppliers for greener technologies. Currently, Skandinavisk companies supply 65% of the military supply.
Combat Assistance Intelligence
Edit
The Snotra Mark III CLAI is a state of the art limited artificial intelligence. Snotra was created by Grønne-Nasjonal Systems BAB, a subsidiary of Bofors, in 1999 under the Mark I format. Snotra is a limited artificial intelligence and preforms tasks such as the Strategic Enhancement System. The System is able to identify enemy units within seconds of their appearance, and identify which area in the battle-space is most suitable for the user to preform combat from. Snotra uses a complex link system to unify the user and the command. Snotra uses a retina implant to guide the user, and these implants can easily be removed at the will of the user. The interface of Snotra is called upon by a specific designation code given to the user, most commonly "2008", and Snotra uses the user's retina to glide through the screen. The process of accessing information can be done via voice recognition or retina point. The programme is connected to ODINCOMMAND via broadband signal stations located across the country, but connection to the system is only for updates and communications. Snotra displays the user's Health Structural Integrity, on a scale of 0 to 100, and the user's equipment count.
Body Gear
Edit
All persons of the Bakkestryker receive a ULL Body Enhancement System suit, a highly technical body enhancement and protection system. ULL was developed by Jakobson Skytevåpen SA in 2003, and has under gone seven upgrades since its creation. The latest edition was created in 2011. ULL, named after the old god of dueling, uses microbial injection systems, a steroid-caffeine-salvia mixture, to constantly increase the user's ability. The mixture is injected upon entering the suit, and every six hours after that. The steroids are to increase the body structure of the user as they preform combat duties. The caffeine is to constantly keep the user alert and ready for service, and the salvia is to counteract anxiety and the body's system of pain alerts. The ULL system uses a lightweight titanium alloy chain system to allow for increased speeds and bullet protection. Over the titanium chain, but only in vital areas, is 2cm thick rubber-plastic body armour to help decrease the chance of bullet impact. The ULL system covers the entire body, and has an implanted human excretion module to allow the user to defecate if they are needed to.
Utility/Basic
Edit
Utility/Basic

| Name | Type | Producer | Notes |
| --- | --- | --- | --- |
| STAG Reindeer-VII | Armoured vehicle | STAG Motors | Fast transportation for land. Can be mounted with a 44mm machine gun or a 135mm cannon. (3000) |
| SAAB XU109 | Transport truck | SAAB | Transportation by heavy units or military squads by land. Can be mounted with a 44mm. (1400) |
| SAAB XV64 | Fast-attack vehicle | SAAB | A lighter, faster vehicle used in high speed chases by the Bakkestryker. Mounted with a small 20mm machine gun. (1050) |
| SAAB XV77 | Covert vehicle | SAAB | A car with a civilian appearance used in covert operations. A small 10mm machine gun is hidden behind the grill insignia. (70) |
| Volvo Q190 | VIP transport | Volvo | An armoured car used by Generals and Commanders for transport. Two 35mm machine guns are located in compartments below the headlights. (120) |
| STAG Elk-IX | Armoured truck | STAG Motors | A heavily armoured truck used in mine sweeping and high VIP transport during times of war or insecurity. (55) |
Tanks/Armoured Cavalry
Edit
Tanks/Armoured Cavalry

| Name | Type | Producer | Notes |
| --- | --- | --- | --- |
| Leopard 2SKBG7 | Main battle tank | Kraus-Maffei ( Germany) /Saab-Bofors | The customized Leopard used by the Bakkestryker as its main battle tank. Upgraded fusion-fuel system, heavier armour, and a second cannon added alongside the main. (80) |
| BAB Fjord11 | Armoured cavalry | Bofors | The primary light tank of Skandinavia. Uses a 75mm shell, and has small cannon located on the front. Includes a gunners turret on the back. (25) |
APCs/IFVs
Edit
APCs/IFVs

| Name | Type | Producer | Notes (Number) |
| --- | --- | --- | --- |
| VAB-SKGB5 | Armoured patrol | GIAT Industries ( France) | Skandinavisk variant of the French VAB. Has more plating and a smaller cannon (6mm). (110) |
| SBAB-GF60 | Infantry fighting | Saab-Bofors | A joint production between Saab and Bofors; has a 35mm incendiary cannon and two side mounted 9mm machine gun turrets. Also has one back mounted TOW missile launcher. (115) |
| BAB GF-270 | Infantry fighting | Bofors | A faster version of the GF60. Contains no side-back mounted turrets, and has a smaller 22mm basic cannon. More plating and an enhanced targeting system. (40) |
Artillery/MLRS
Edit
APCs/IFVs

| Name | Type | Producer | Notes (Number) |
| --- | --- | --- | --- |
| AS 90-SKGB2 | Self-propelled artillery | BAE Systems ( United Kingdom) | Variant of the BAE AS 90. Includes heavier plating and advanced targeting systems. (160) |
| L118-SKGB | Towed howitzer | BAE Systems ( United Kingdom) | Skandinavisk variant of the British Light Gun. Uses smaller shells and a mechanism for a higher rate of fire. (10) |
| BAB MR70 | MLRS | Bofors / Vought Corporation ( Allied States of America [Ammunition]) | A MLRS vehicle that uses American M26 rockets. (60) |
Firearms

| Name | Type | Producer | Notes |
| --- | --- | --- | --- |
| M&C Persson-19 | Semi-automatic Carbine | Magnusson & Carlotta | A .375mm three burst carbine; basic semi-automatic weapon of the Forsvaret. (400,000) |
| M&C Zalachenko-223 | Pistol | Magnusson & Carlotta | A 10mm standard issue pistol; basic pistol of the Forsvaret. (370,000) |
| ARTISAN-P Midsummer's Dream | Pistol | Artisan AB | A 9mm pistol owned by few in the Bakkestryker. Custom made, and includes gold detailing. (40) |
| JAK Type 10.4 | Semi-automatic Two-Burst Shotgun | Jakobson Skytevåpen SA | A two fire in one shot shotgun with a semi-automatic pump. Uses 76.2mm shells. (150,000) |
| JAK Model 30.8 | Fragmentation Grenade | Jakobson Skytevåpen SA | Frag grenade with a flash use technique. (340,000) |
| M&C Johanssen-99 | Automatic Carbine | Magnusson & Carlotta | Fully automatic .50mm carbine. Used in second to the Persson-19. (270,000) |
| M&C Renee-26 | Sniper rifle | Magnusson & Carlotta | An .80mm bolt action sniper rifle. (150,000) |
| M&C Damien-13 | Rocket-propelled-grenade launcher | Magnusson & Carlotta | A high tech RPG launcher with advanced computer targeting, laser pinpointing and anti-recoil measures. |
| ARTISAN-R Requiem | Anti-tank/air rocket | Artisan AB | A rocket system with a heat targeting system and advanced trajectory rocket targeting. (1,600) |
Ammunition
Edit
Ammunition
Type
Use
Producer
.375mm
Persson-19 Carbine
Imported: Everett
.50mm
Johanssen-99 Carbine
Imported: Everett
.80mm
Renee-26
M&C at Karlstad
6mm
VAB-SKGB5
Imported: East Asian Federation
9mm
ARTISAN-P Midsummer's Dream
SBAB-GF60
Imported: East Asian Federation
10mm
BAB Fjord11
SAAB XV77
Zalachenko-223
Imported: East Asian Federation
20mm
SAAB XV64
M&C at Karlstad
22mm
BAB GF-270
JAK at Stavanger
35mm
Volvo Q190
SBAB-GF60
JAK at Stavanger
44mm
STAG Reindeer-VII
SAAB XU109
M&C at Karlstad
75mm
BAB Fjord11
JAK at Stavanger
76.2mm
JAK Type 10.4
Imported: Everett
135mm
STAG Reindeer-VII
M&C at Karlstad
Statistics
Edit