This article is under construction and/or revamp and will be completed at a later date. If this article has not been edited in several days, please remove this template.
This article was last edited by Seiga Miyako (talk| contribs). (Update)
Here is a list of species that exist throughout the universe. It is listed by area of origin.
Note that this doesn't list deities (such as Amaterasu and Adi Parashakti). For a list of deities, goddesses, and gods, see Deities.
Japan
A
Ameonna
Amanojaku
Amanojaku (天邪鬼) are oni-like creatures. Amanojaku aren't oni, but just a particularly twisted type of youkai who is able to provoke a person and instigate them to do evil deeds. They're the spirits of contradiction and perversity.
A few Amanojaku have additional abilities, mainly the ability to turning anything upside-down, and as such are able to flip anything into its opposite existence. Another major ability is being able to reverse a situation with one's own words; meaning that when one speaks of a particular situation or event, that situation will eventually proceed to reverse itself, through whatever means possible. Amanojaku with the latter ability tend to not speak much and choose their words carefully.
Daitengu
E
Enenra
F
Fūjin
Funayūrei
G
Goryō
H
Hakutaku
Hibagon
Hitodama
I
Ikiryō
J
Jishin-namazu
K
Kappa
Kasa-obake
Kasha
Keukegen
Kitsune-Tsuki
Kitsunebi
Konoha-tengu
M
Menreiki
Mizuchi
Mononoke
N
Namazu
Nekomata
Nue
O
Obake
Oni
R
Rokurokubi
Ryuu
S
Satori
Satori (覚, "consciousness") are supernatural monsters ("Yōkai") that originate from within the mountains of Hida and Mino (presently Gifu Prefecture), and able to read people's minds. Upon reading a person's mind, the Satori would say the person's thoughts aloud faster than a human could, and can easily dominate in conversations with the other person getting no chance to speak at times. However, most of the Satori are able to control themselves from talking and dominating conversations, and allow the other person to speak.
The Satori do not present any danger to people and would not dare to harm those who work on the mountain, allowing people to coexist with them.
In their standard and uncommon form, they take the form of an ape. Their Humanoid appearance, which is much more common, they have a third eye positioned over their heart, with the cords either running to the head and wrists or wrapped around the torso and attached to the ankles.
While a majority of Satori have the third eye open to read minds, those that close it will not be able to read minds, and their presence will be undetected unless they feel like it.
Many Satori also have limited hypnotic abilities, allowing them to bring traumatic memories to the surface of a person's mind or induce amnesia. They also can view their opponent's memories and use abilities they have seen in the past - i.e. Spell Cards that the person may have fought against in their life. While the Satori are able to recreate the past attacks, it is most of the time not completely exact if they lack the abilities or unclear memories.
Shikigami
Shinigami
T
Tanuki
Tengu
Tsukumogami
Y
Yamabiko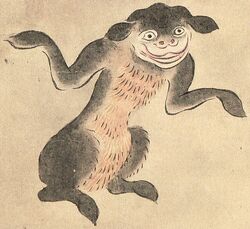 The Yamabiko (山彦, 幽谷響) is a mountain god, spirit, and yōkai originating from Japan. They reflect sound and echoes, and can manipulate the sound transferred back.
In their standard and uncommon form, they only are seen and inhabit the mountains. In their Humanoid appearance, which is much more common, they have Yamabiko ears instead of normal ones, and also have a short tail (like a cat for example); and can live anywhere and are not limited to mountains.
The Yamabiko's magic can produce a barrier capable of reflecting their own danmaku and spells. They can also trap their bullets inside the field and increase the density of the danmaku, spells, and magic attacks, though some of the projectiles will be directed away. The reflection itself alters the trajectory of bullets so that they lead to sudden and unexpected attacks.
Yōsei
Yosuzume
Yosuzume (夜雀, "Night-Sparrow") are bird yokai that originate in western Japan. They generally only appear at night; though in their Humanoid appearance can also appear in the daytime as well.
In their bird/sparrow form, they mainly are only seen around mountain trails and live within the forests and mountains. At night, they appear and start to chirp "chi, chi, chi" like a sparrow, and will come in front of any people they find who are walking along mountain trails, and are generally a sign that a wolf/stray dog will cross paths with those exploring. It's also known that trying to catch a Nigh Sparrow will make one have nyctalopia.
In their Humanoid form, they have pointed ears like an owl and bird-like wings with a colour highlights. Their humanoid forms also come with abilities, such as being able to bewilder or drive people insane by singing and ability to inflict blindness to humans. Although they can live just about anywhere, a majority of them live near mountains.
Yuki-onna
China
Chinese Dragon
Jiangshi
Shījiě xiān/Shikaisen (尸解仙)
Tiānxiān
Xian (Taoism)
Korea
Kumiho
Bulyeowoo
Dokkaebi
Imugi
Haetae - A supernatural being that's shaped like a lion and has a horn on its forehead. It also has a bell in its neck, and the body is covered with scales. Formerly lived in the frontier areas of Manchuria before migrating and moving fully into Korea around the 1100s. The current population of Haetae is around 8500.
Gwishin
Bhutan
Druk (Bhutanese Dragon/Thunder Dragon)
The Druk (Dzongkha: འབྲུག་) is the Thunder Dragon that originates from and its native range is in Bhutan. The Durk is also a Bhutanese national symbol.
A Druk appears on the flag of Bhutan, holding jewels to represent wealth. In Dzongkha, Bhutan is called Druk Yul "Land of Druk", and Bhutanese leaders are called Druk Gyalpo, "Thunder Dragon Kings". The national anthem of Bhutan, Druk tsendhen, translates into English as "Kingdom of Druk".
There are about 1,800 Durks that live within Bhutan, mainly in the mountains though some also live around towns. They are a protected species, and as such hunting one is illegal and the prosecutor, if caught by either the Bhutanese police or another Durk, will be sent to jail for eternity. The Durks are very rarely seen outside its native lands.
The Durks are also very protective of their native land and Bhutan, and has come to defend both its land and the Bhutanese people throughout history, even more so after Bhutan gained independence in 1500. The Durks also co-operate with the Bhutanese military, as they lack an official air force and army aviation corps.
The Durks only magical power is electricity. They attack with firing lightning strikes and by releasing an electric beam out of their mouth.
Ireland
Dullahan
Other
Ad blocker interference detected!
Wikia is a free-to-use site that makes money from advertising. We have a modified experience for viewers using ad blockers

Wikia is not accessible if you've made further modifications. Remove the custom ad blocker rule(s) and the page will load as expected.