The Hon. Stephen Cole, MP (b. 1930) is a Georgeland politician who currently serves as Father of the Georgeland House of Commons. He is a Conservative who has represented the seat of Hanover since 1967, though from 1967 until 1987 it was known as Zigit South.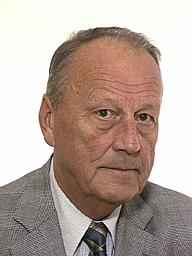 Born in London, Cole emigrated to Georgeland at the age of five, though he returned to England in 1954 to study at Cambridge University. In 1949 he enlisted in the Georgeland Army and served in the Korean War. Following his war service he went to Cambridge to study law. In 1960 he set up a law practice in his local town and was elected to the town council in 1965. In 1967 he was elected as a Conservative to the Georgeland House of Commons. Cole served briefly as a minister in the government of Robert Fisch, where he was Minister for Railways 1982-1983. Considered at one point a potential leader, Cole was Shadow Minister for Transport 1983-1987 and Shadow Minister for Local Government 1987-1992. Cole resigned from the front bench in conflict with then-Tory leader Eric Edge and was not a minister in Edge's short-lived government. In 1997 he became Shadow Minister for Sport but resigned in 1998. In 1999 he became Father of the House. He remains a somewhat stern and dour figure but a keen debater with a stentorian style, and a popular figure among members from both sides of the House. In January 2006, after nine government lawmakers were accused of illegally investing in the collapsed Civic Bank, Cole revealed the committee published a report recommending a Bank of Georgeland bailout of the Civic Bank in 2004. Cole saton the Financial Affairs committee of the Commons, and was the most senior Conservative on that committee. Cole is retired at the 2007 election after 40 years as a Member of Parliament. Only two people, Jack Barr and Norman Hale have served longer, at 50 years and 42 years respectively.
Ad blocker interference detected!
Wikia is a free-to-use site that makes money from advertising. We have a modified experience for viewers using ad blockers

Wikia is not accessible if you've made further modifications. Remove the custom ad blocker rule(s) and the page will load as expected.