Steven McKay is a Kruzean politician and lawyer. He is the current leader of the Official Opposition to President Tessa Sharples's government. He has been Chairman of the Conservative Party since Michael Azoff's resignation.
Steven MacKay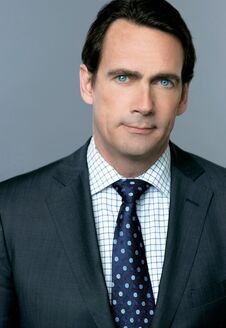 Leader of the Official Opposition in the High Council
since February 2014
Predecessor : Tessa Sharples
President : Tessa Sharples
Chairman of the Conservative Party
since February 2014
Predecessor : Michael Azoff
              Minister of Justice
        April 2012 - February 2014
President : Michael Azoff
Government : Azoff II
             MP for Albion District
since  February 2002
Governor of the Federal Territory
             March 2011 - April 2012
Personnal Details
Birth : 1968 in Honga City, WB
Spouse : Naomi McKay
Children : Jamie McKay, Ben McKay
Religion : Roman Catholic
Job : Lawyer, economist
Party : Conservative (since 2001)
Minister of Justice under Michael Azoff, he is quite a popular politician in the Kruz Islands. He is one of the rare Conservatives not to be accused of corruption in the Mafawa scandal in September 2013.
Biography
Steven Mckay was born 6 February 1968 in Southgate Estates District, Honga City. He is the son of Reginald Mckay and Penny Wilson. Steven is part of the very wealthy McKay family, established in the Kruz Islands since 1855. The McKay family were part of the first Scottish settlers to colonize the Islands. Steven McKay has Scottish, French and jewish ancestry.
McKay was educated at Primerose Hill Private primary school. He attended the very expensive Victoria College in Williamsport. After graduating, he became a lawyer and economist.
Steven married Naomi Coleman, in 1996. They have two children, Ben and Jaime. The family lives in Williamsport.
Politics
Beginning as an MP
Conservative supporter since his teenage years, McKay actually joined the party in 2001. He was elected Member of Parliament for Albion District in the 2002 election. He was chosen because the former Conservative member, Donald Hesletine was retiring, aged 82.
In Government
After the 2011 conservative victory, new president Michael Azoff appointed McKay as governor of the Federal Territory. He didn't stay governor for long because he became Minister of Justice a year later. During his time in government, McKay was seen as the rising star of the Conservative Party. He was one of the rare ministers not to be accused of corruption.
Leader of the Conservatives
When the conservatives suffered from a heavy defeat in the 2014 elections, McKay was seen as the only man to replace Michael Azoff. Two weeks after the election, McKay won the Conservative Leader Election by a large margin. he subsequently became Leader of the Opposition.
Ad blocker interference detected!
Wikia is a free-to-use site that makes money from advertising. We have a modified experience for viewers using ad blockers

Wikia is not accessible if you've made further modifications. Remove the custom ad blocker rule(s) and the page will load as expected.