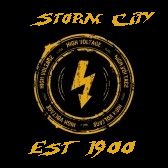 The Strikers are a American Football team from Storm City,
Bergland.
They were founded in 1900 when the
BNL
was founded and they won the first three championships. They have twenty one championships in total and have went to the title game twenty five times. They won back to back from 2010-12. The team's current coach is Randall Len, a former NFL coach who was fired from the Packers after the team was eliminated from the playoffs. Coach Len is in his first year, the previous coach having left for a job at Oregon. The team was ranked one in the preseason Power Rankings and their current roster has been rated as most talented by ESPN. Their uniforms are produced
by
Overwatch

The Strikers play at Overwatch Stadium at Storm City, but the stadium is better known as The Madhouse. The stadium was built in 2010 after the championship season, replacing Reliant Arena as the stadium. The team practices at a team-owed facility outside of Storm City.
Ad blocker interference detected!
Wikia is a free-to-use site that makes money from advertising. We have a modified experience for viewers using ad blockers

Wikia is not accessible if you've made further modifications. Remove the custom ad blocker rule(s) and the page will load as expected.