This article is under construction and/or revamp and will be completed at a later date. If this article has not been edited in several days, please remove this template.
This article was last edited by TheMaster001 (talk| contribs). (Update)
Lecrotia is subdivided into First-Order Cities (città di primo ordine), Districts (distretti), Electoral districts (distretti elettorali), Counties, which are in turn classified either as Metropolitan Counties (contee metropolitane) or Rural Counties (contee rurali). Metropolitan Counties are divided into Prefectures (prefetture).
First-Order Cities
A first-order city is a city that is not subject to any control by the District, nor by the County. Said city is therefore divided into Prefectures.
Districts
A District is an administrative subdivision of first order in Lecrotia.
Counties
In Lecrotia, a county is an administrative subdivision of second order. It can be either classified as metropolitan or rural. Metropolitan counties are divided into prefectures (prefetture).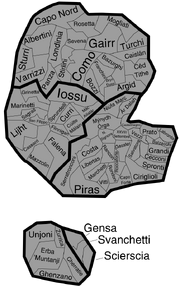 | Name | Capital | Rural/Metro | Notes |
| --- | --- | --- | --- |
| Svanchetti/Żvanket | Baretta | Metropolitan | Baretta is split into three parts: the Western Part is managed by the Ġensa County, the Central one is managed by the Svanchetti County, while the Eastern part is managed by the Xerxaħ County. |
| Ġensa/Gensa | Pagħola (Neighborhood of Baretta) | Metropolitan | |
| Xerxaħ/Scierscia | Hunteże (Neighborhood of Baretta) | Metropolitan | |
References
Ad blocker interference detected!
Wikia is a free-to-use site that makes money from advertising. We have a modified experience for viewers using ad blockers

Wikia is not accessible if you've made further modifications. Remove the custom ad blocker rule(s) and the page will load as expected.