The
TAI-100
is a fifth generation fighter jet employed by Turkicstan. It is manufactured by
Turkic Aerospace Industries
, and manufactured at its plant near Balkanabat, Turkicstan. It is used by the Turkicstan Air Force aswell as the Turkicstan Navy. It can reach speeds of Mach 3, and was intended for short take off/landing but was deemed unsuitable for the aircraft.
Background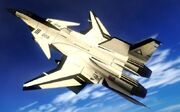 The TAI-100 was designed by TAI (Turkic Aerospace Industries) in 2007, when Turkicstan wished to built its own Fighter Jets, and enlisted TAI to design, develop and manufatur the TAI-100 and 200. The 100 was under development for 2 years, until its first flight on the 19 January 2009, and was introduced to the Turkicstan Air Force in 2010. Currently 55 TAI-100 are in service with the TAF, with another 20 on order.
Statistics
Crew: 1 (pilot)
Length: 22.6 m (74 ft 2 in)
Wingspan: 15.16 m to 16.7 m (49 ft 9 in to 54 ft 9 in)
Height: 6.3 m (20 ft 8 in)
Wing area: 61.87 m² (666 ft²)
Empty weight: 16,375 kg (36,100 lbs)
Loaded weight: 25,000 kg (55,115 lb)
Max takeoff weight: 35,000 kg (77,162 lbs)
Powerplant: 2 × TAI XM-2035
Performance
Maximum speed: Mach 3
Cruise speed: Mach 1
Range: Unlimited
Combat radius: 865–920 mi (750–800 nmi, 1,380–1480 km)
Service ceiling: 65,000 ft (19,800 m)
Armament
1 × 30 mm Cannon
6 × Air-to-Air missiles
4 × Enhanced Air-to-Air missiles
Ad blocker interference detected!
Wikia is a free-to-use site that makes money from advertising. We have a modified experience for viewers using ad blockers

Wikia is not accessible if you've made further modifications. Remove the custom ad blocker rule(s) and the page will load as expected.