Tessa Sharples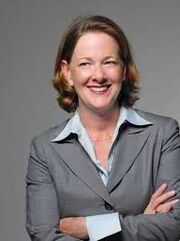 President of the Kruz Islands
      11 February 2014  - in office

Predecessor : Michael Azoff
         Leader of the     Progressive Democrats
3 September2012 - 20 February 2014
Minister of Education
    February 2005 - February 2008
Government Spokesperson
     February 2005 - February 2008
Secretary of State for Western Barnava
October 2009 - 11 February 2014
     MP for Flydale District
February 1999 -  in office
Personal Details
Birthdate : 20 october 1971 
Birthplace : Honga City
Citizenship : Kruzean
Job : journalist
Political Party :  Progressive Democrats
Spouse : Andrew Sharples
Children : Louise, Lucas, Samy
Alma Matter : Manawonga University
Tessa Jane Sharples (born 20 October 1971), is the current President of The Kruz Islands. She is the second woman to be elected president.
Born in Honga City (WB), she is a graduate of Manawonga University (Honga), and worked as a civil rights activist before becoming a journalist. She is perfectly bilingual in Kruzean and English, and is also fluent in French, Chinese and Arabic.  
Member of Parliament for Flydale District since 1999, leader of the Progressive Democrats since 2012, she was elected President in February 2014, defeating the incumbent Michael Azoff.
Ad blocker interference detected!
Wikia is a free-to-use site that makes money from advertising. We have a modified experience for viewers using ad blockers

Wikia is not accessible if you've made further modifications. Remove the custom ad blocker rule(s) and the page will load as expected.