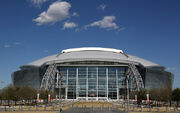 Overwatch Stadium at Storm City is the home of the
Strikers
, and it is better known as it's nickname: The Madhouse. The domed stadium was built in a joint project by
Overwatch
, Storm City, and the Strikers organization.
The stadium can house one hundred and five thousand fans on a normal day, but during the playoffs, they usually host one hundred and eight thousand.
OSSC was built after the championship 2012 season and is located in downtown Storm City, one of the world's densest metropolitan areas.
Ad blocker interference detected!
Wikia is a free-to-use site that makes money from advertising. We have a modified experience for viewers using ad blockers

Wikia is not accessible if you've made further modifications. Remove the custom ad blocker rule(s) and the page will load as expected.