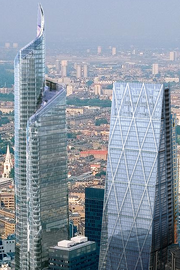 The Wedge, officially 13 Cumberland Road, is a skyscraper located in
National Quay, Bristol
development. Located just off Brunel Plaza, the Wedge currently serves as the main offices of the National Bank of Wessex, while it's Corn Street building serves as its official headquarters. The Wedge also houses several other offices for various companies, aswell as a Conference Centre and Visitors Level which includes a panoramic view of Bristol. The tower stands at 225 metres tall, making it the second tallest building in Wessex. 
The Wedge was funded largely by Economic Development companies, namely from Wessex, Saudi Arabia and the United Arab Emirates, and was officially completed in 2007. 
Ad blocker interference detected!
Wikia is a free-to-use site that makes money from advertising. We have a modified experience for viewers using ad blockers

Wikia is not accessible if you've made further modifications. Remove the custom ad blocker rule(s) and the page will load as expected.