Tithings (
Tiþingna
) are an administrative unit of the 
Commonwealth of Wessex
, and are the lowest tier of administrative unit below Shires. The
Shires of Wessex
, are further divided into Tithings, which are synonymous with Civil Parishes in the United Kingdom. 
A Tithing can range in size from a large town, with a population of around 80,000 to a small village or collection of hamlets. The Tithing Council may designate the Tithing a Town, Village, Neighbourhood or Community. Tithings are only in place in Non-Metropolitan Shires of Wessex. 
Governance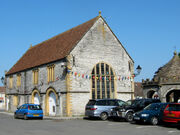 Every Tithing has a Tithing Meeting, consisting of all electors from the Tithing. Members are unpaid electors who serve four year terms. Tithing councils have limited resources and play a minor role in local politics, whilst playing a large role in the upkeep of their local areas. 
Functions
The provision and upkeep of certian local establishments, such as Allotments, Bus Shelters, Parks, Playgrounds, Benches, Public Toilets, Public Clocks, Street Lights, and Village/Town Halls. 
Maintainence of Footpaths, Graveyards, and Village Greens. 
Tithing councils are supposed to act as a channel of local opinion to larger local government bodies, and as such have the right to be consulted on any planning decisions affecting the parish.
Ad blocker interference detected!
Wikia is a free-to-use site that makes money from advertising. We have a modified experience for viewers using ad blockers

Wikia is not accessible if you've made further modifications. Remove the custom ad blocker rule(s) and the page will load as expected.