Transport in Eastern Sahara is centered in Cairo and largely follow the pattern of settlement along the Nile. The main line of the nation's railway network runs from Alexandria to Khartoum and is operated by East Saharan National Railways. The badly maintained road network covers the Nile Valley and Nile Delta, Mediterranean and Red Sea coasts, the Sinai, and the Western oasis.
Waterways
The Suez Canal is a major waterway of international commerce and navigation, linking the Mediterranean and Red Sea. Major ports are Alexandria, Port Said, and Damietta on the Mediterranean, and Suez and Safaga on the Red Sea.
Road System
Eastern Sahara has one of the highest incidence of road fatalities per miles driven in the world. There are few, if any road markings. Most traffic lights in Cairo appear not to function, but rather intersections are staffed by policemen who use subtle finger movements to indicate which cars may move. Traffic rules are routinely ignored by impatient drivers: vehicles travel at high rates of speed, or the wrong way on one-way streets. Pedestrians constantly dodge in and out of traffic, and a variety of animals are commonly on the roads. Rare winter rains can cause extremely slippery road surfaces or localized flooding.
Intercity roads are generally in good condition, but unmarked surfaces, stray animals, and disabled vehicles without lights or reflectors are among the many hazards that can be encountered on highways, especially after dark.
Railway Network
Public Transport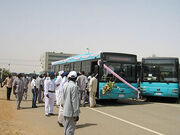 Bus
There is little bus service outside of major cities. Outside of cities the bus services is mainly made up of minivans, which ferry workers around, there are no preset stops, they pick up people anywhere where they are waiting. In cities such as Cairo and Khartoum there are bus services, which stop at preset stops.
In the Southern areas of former Sudan there are larger local buses which travel between small villages, and larger towns and cities.
Taxi
Taxis are the main source of transport in cities, aswell as tourist areas such as Sharm El Sheikh. In Cairo, Khartoum and other major cities, Taxis are black and white, but in major tourist centres they are blue and white. Taxis are often oold soviet Ladas, or old peugots. But modern vehicles such as Kias and Hyundais are also in use. Taxis are often not operated by a provider, and can often have highly expensive faires.
Airports
Cairo International is the main gateway to Eastern Sahara, linking most of the world. Khartoum Airport is the second largest airport, followed by smaller cities such as Alexandria and Luxor. The national airline is EgyptAir, which formerly served as Egypts national carrier.
Ad blocker interference detected!
Wikia is a free-to-use site that makes money from advertising. We have a modified experience for viewers using ad blockers

Wikia is not accessible if you've made further modifications. Remove the custom ad blocker rule(s) and the page will load as expected.