Eastern Sahara is located in Eastern Africa, on the coast of the Red Sea, and the Mediterranian, sharing borders with Libya, Chab, Southern Sudan, Eritrea and Ethiopia.
One of Eastern Sahara's main tourist destinations are the internationally famous Pyramids of Giza, others include St Catherines Monastery.
Top Cultural Sights
Egyptian Museum
Pyramids of Giza
St Catherines Monastery
The Sphinx
Valley of Kings
Get In
Citizens from from outside of the Arab League must aquire a visa in advance to enter Eastern Sahara, the only exceptions are passengers arriving at Sharm El Sheikh, Taba, Hurghada and Luxor, due to the high level of holidaymakers, visas' must be purchased on arrival at the airport before entry to the country.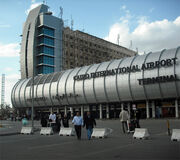 Air
The busiest airport in the country is Cairo International Airport, the second busiest being Sharm El Sheikh, followed by Khartoum. The majority of holiday makers enter the country through Sharm El Sheikh, Hurghada, Taba and Luxor. EgyptAir is the countries official flag carrier, vowing not to rename itselfs since the demise of Egypt.
Road
Eastern Sahara has land borders with Israel, Chad, Libya, Eritrea and Ethiopia. A road link between Sharm El Sheikh and Saudi Arabia will be provided by the Saudi-Sahara Causeway, which will open in 2013.
Visa's can be purchased at land borders from countries within the Arab League and Africa, citizens of non-arab or african countries must buy a visa in advance to enter through land borders.
Get Around
Car
Taxi
In major cities such as Cairo and Khartoum taxis are white and black, in tourist areas taxis are blue and white. Minivans also operate communal taxi services, which have no preset stops. Taxis charges are not run by counters, as many taxis are older models, or the counters have broken because of sand.
Boat
Air
Food and Drink
Laws to be Aware of
Cautions and Travel Advisories
Travel to the Darfur region is heavily advised against, due to ongoing civil unrest in the area.
Travel to the Southern Areas, including Abyei are strictly prohibited, due to ongoing armed conflict over the dispute of the Abyei area.
Ad blocker interference detected!
Wikia is a free-to-use site that makes money from advertising. We have a modified experience for viewers using ad blockers

Wikia is not accessible if you've made further modifications. Remove the custom ad blocker rule(s) and the page will load as expected.