Trieste Da Vinci International Airport, known as the Hub of Europe, is a major European airport located in Trieste, Europa. It is one of the world's busiest airports, receiving 54,370,000 passengers in 2010.
History
Trieste International Airport was originally built in 1957 to serve the Trieste-Capodistria region. The airport was located somewhat close to Koper, but not too far away from Trieste city. It was in the 1960s that the airport began to get its nickname, the "Hub of Europe". The Airport was expanded and redesigned in 1966, giving it an extremely modern design; this expansion led to more routes globally. In 1971 a rail station was added here, with train service to all over Europe. Being in the center of Europe has had benefits for the airport. It is a gateway to Eastern Europe and Asia, and from the other side a gateway to Western Europe and North America.
Terminals
There are five terminals at the Airport; one for Domestic flights, one for European flights, one for Asian/African flights and one for the Americas.
Train Station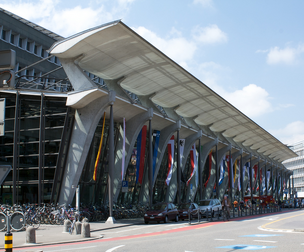 At the airport there is a train station, in fact one of Europe's largest. It trains go up and down "the boot" as well as to Zagreb, Split and Tirana within Europa. Destinations in the EU include Athens, via Tirana; Marseille via Nice and Lyon. Other European destinations include Geneva, Bern, Zurich, Innsbruck, Munich and Ljubljana.
Ad blocker interference detected!
Wikia is a free-to-use site that makes money from advertising. We have a modified experience for viewers using ad blockers

Wikia is not accessible if you've made further modifications. Remove the custom ad blocker rule(s) and the page will load as expected.