This article is under construction and/or revamp and will be completed at a later date. If this article has not been edited in several days, please remove this template.
This article was last edited by Falloutfan08 (talk| contribs). (Update)
The Turkish Province is the largest by area, most populated and most developed province of the Republic of Turkicstan.
Geography
Economy
Administrative Divisions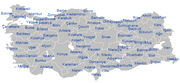 Demographics
Ad blocker interference detected!
Wikia is a free-to-use site that makes money from advertising. We have a modified experience for viewers using ad blockers

Wikia is not accessible if you've made further modifications. Remove the custom ad blocker rule(s) and the page will load as expected.