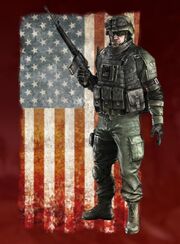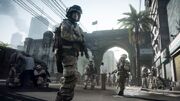 &nbsp
United States Armed Forces
Army
The United States of the Atlantic uses various ethnic groups used to fight mostly in the territories or envirements similar to them.

Equitment
UH-60 Helicopter
AH-64 Helicopter
Stryker IFV
M1A2 Abrams MBT
Humvee
Challenger MBT M16A4
M249
Javelin
M109 paliden artillery
v22 osprey
m60

AirForce
Equitment
F15 Eagle
A10 Thunderbolt
Harrier
B 52 Stratobomber
Navy
San Antonio class destroyer
Nimitz class aircraft carrier
Seawolf class submarine
Type 23 class frigate
Type 45 destroyer
Albion class landing ship
Iriqois class destroyer
Landing craft air cushioned
Ad blocker interference detected!
Wikia is a free-to-use site that makes money from advertising. We have a modified experience for viewers using ad blockers

Wikia is not accessible if you've made further modifications. Remove the custom ad blocker rule(s) and the page will load as expected.