Everett City
Edit
Street Names, Subway Station Locations
For the subways I marked the needed stations but feel free to add stations in other places where neccessary. The Presidential Security Line is the government subway that only officials can access and has no connection to the general subway system. I put where that line goes on the map. Ham Ham Time (User/Talk/World/WAT) 22:54, March 3, 2010 (UTC)
That's actually almost exactly what I had planned out, just with a few alignment differences. I didn't have a line going up the east side, and it looks like there'll need to be another or perhaps two more east-west crosstown lines. There'll have to be a short connector shuttle from the Airport rail station to the airport itsself, because existing railroad tracks are on the river side, but that's not a bad thing, and it can double as an AirTrain like thing.
Without the monorail and security lines, this is the plan for the subway itself: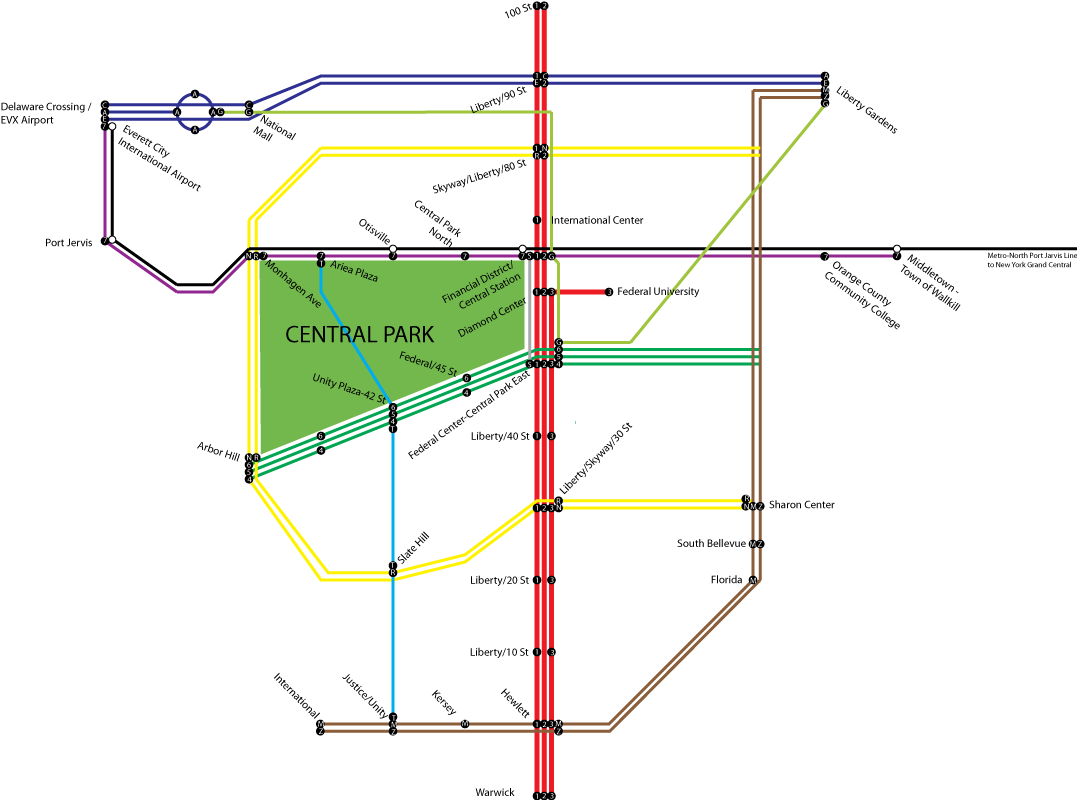 .Woogers(lol what hax) 22:59, March 3, 2010 (UTC)
Go ahead and do what you need to do. You know what you're doing. Ham Ham Time (User/Talk/World/WAT) 17:19, March 4, 2010 (UTC)
Prototype: Everett City Central Station Woogers(lol what hax) 02:05, March 5, 2010 (UTC)
I forgot that there is a fusion power facility north of the city passed 100th Street. There should be something going there I would suppose. Ham Ham Time (User/Talk/World/WAT) 06:15, March 8, 2010 (UTC)
New Project
Edit
UP, due to the constant child like drama on FW and Atlion that I've been seeing, I was wondering if there was any way that I could work along side you in your project? I have been keeping a close eye on the unfolding events of both worlds, and do not want to waste what little time I do have to do this project while dealing with the constant fighting. I just want to make a country and I really like Everett. LIKE A BOSS, PSYRAX (Speak Your Peace) 22:47, October 12, 2012 (UTC)
I'll let you know my plans as I become less busy. At the moment, my project idea was to return Everett to its lonesome, along with Israel, Iraqistan and 4chanistan. It is possible that I will attempt to create a larger world again, involving Everett in which I may allow a few key well known or responsible users to play along with in a somewhat regulated format, to prevent Viva-style bullshit. Are you planning to continue with your Brazil nation or what? Ham Ham Time (User/Talk/World/WAT) 23:00, October 12, 2012 (UTC)
Seeing as it's become the creepy guy who never leave's its apartment, I'd like to move Skandinavia into that world you're making. It's mostly forgotten by everyone on Future World, and it's really intertwined with Everett. You'd agree to that right? (ᵒᴥᵒ) MineCraftian (Talk) (Duestchland - Texas - Oil City - Skandinavia) (ᵒᴥᵒ) 23:13, October 12, 2012 (UTC)
Hey, I like the infobox. Do you think you can make a template for it? -Signed by Warmonkey (talk • contribs)

20:20, December 29, 2012 (UTC)
I can attempt to, good sir. I got this off of User:Daneofscandinavy. Ham Ham Time (User/Talk/World/WAT) 20:31, December 29, 2012 (UTC)
Ah, never noticed it on his page. Thanks for trying, it will be great. -Signed by Warmonkey (talk • contribs)

21:17, December 29, 2012 (UTC)
Reply Regarding Hiatus
Edit
I have been off here so I'm assuming this will be the best way to talk. I've been pretty busy with life. I see FW has cataclysmically split at the quantum level into several different worlds, lol. I have been following the EV project, the new FW, some others here and there, and am trying to move the FGC and other related stuff to a separate world which I can edit at my own leisure. If there is any protocol I need to be made aware of just let me know and I will happily follow it, as long as I can use my stuff. :) Anyway, glad to see everyone doing well!!! Gatemonger (talk) 23:42, February 11, 2013 (UTC)
Bah, I was led to believe that you were going to leave us, Viva led me to believe you were giving us away to adoption. Then I saw that some guy had bidden on trying to adopt Constructed Worlds, Merry somthing, so I in a desperate attempt at least tried to keep power from an outsider. Well, that clears it out. ---Sunkist- (talk) 10:43, May 17, 2013 (UTC)
Me? You do understand that MC was in chat with us when he told me about the matter. I only relayed a message I was told. 

Vivaporius: "I don't need a slogan" 13:07, May 17, 2013 (UTC)