Wessex 2 is a  the second television channel of
Radjo Teledu Wessex
first broadcasting in 1975. Wessex 2, also known as Channel 2, broadcasts a wide range of programming, consisting mostly of comedy, soaps, dramas and science fiction programmes, while talkshows and game shows. Wessex 2 brings the second largest viewing audience in
Wessex
, after
Wessex 1
, watched daily by over 65% of Wessens. 
The Channel broadcasts a variety of imported and in-house productions. Imported shows are often dubbed into Wessen, however they are also often subtitled in Wessen. 
Programming
Broadcast Programs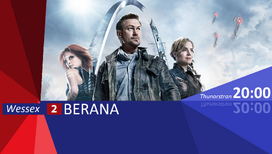 Regularly broadcast programs include;
American Dad
Battlestar Galactica
The Big Bang Theory 
Bristolek
Caprica
Community
Continuum
Defiance (Berana)
Dexter
Doctor Who
Falling Skies
Family Guy 
Firefly
Fresh Meat
Friends (Freondan)
How I Met Your Mother
New Girl (Niw Fran) 
Not Going Out (Nar jidar gan)
Tonight! (Nuniht!)
Would I Lie To You?
Ad blocker interference detected!
Wikia is a free-to-use site that makes money from advertising. We have a modified experience for viewers using ad blockers

Wikia is not accessible if you've made further modifications. Remove the custom ad blocker rule(s) and the page will load as expected.