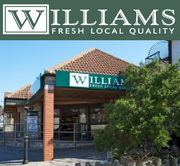 Williams Supermarkets, or Williams Foodstores, is the fourth largest food retailer chain in Wessex and Cornwall after Tesco, Safeway and Aldi. Williams was founded in 1963 as Williams Foodstores in Somerton, Somerset, and rebranded as Williams Supermarkets in 1996, buying out the failing food retailer, Somerfield, taking over its stores and opening new ones across the country. 
Operations
Williams is the fourth largest food retailer in Wessex and Cornwall, operating small to medium sized stores, specialising in community stores and small supermarkets, as of 2013 operating over 600 stores countrywide, with an expansion into Great Britain, with another 53 stores. 
Ad blocker interference detected!
Wikia is a free-to-use site that makes money from advertising. We have a modified experience for viewers using ad blockers

Wikia is not accessible if you've made further modifications. Remove the custom ad blocker rule(s) and the page will load as expected.