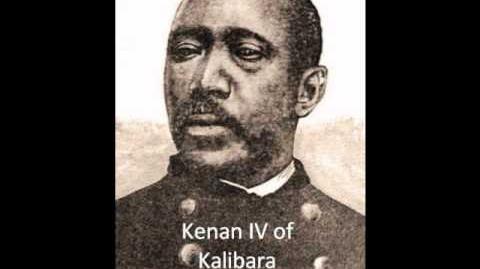 Ya Anarudi Kaizari (The Emperor Returns) is the official national anthem of the Imperial Dynasty of Kalibara, which is played at all public events, political gatherings, and royal ceremonies throughout the country and its territories. The anthem was composed by Kaizari Lusala I in 1817, in which he used the melody of Le Retour des Princes français à Paris, the French anthem at the time, for the Kalibarani anthem. The name of the present Kaizari at the time is used whenever the anthem mentions the name of the ruler.
Lyrics
Lyrics
English translation
Amani anarudi
Kalibarani Wote Wakuu
Kuimba wimbo wa taifa,
leo sasa
Kwamba furaha inachukua
Muda kuishi Mfalme! Muda kuishi amani!
Peace returns
All Kalibarani princes
Sing the song of the nation,
today now
That happiness takes
Long live the King! Long live peace!
Muda kuishi Kalibara
Kimaiyos na wa mwenye busara
Imejaa huruma,
Wote ambao mioyo ni nzuri!
Amani, wingi
Kuja katika miji yetu.
Long live Kalibara
Kimaiyos and the wise
Full of compassion,
All whose hearts are good!
Peace, abundance
Coming into our cities.
Nini uliokithiri furaha
Muda kuishi Nyasore!
Mfalme wa Makazi!
Wote kuimba kwa mara moja
Kenan ya tano,
Ukoo wa wafalme!
What an extreme pleasure
Long live Nyasore!
King of Makazi!
Sing all at once
Kenan the fifth
Lineage of kings!
ya Tiara
Kalibara ni mfalme,
Nadhiri yetu sawa
Je ni ya sababu kwa nini
Ndiyo, Kenan anatupenda,
Muda kuishi Mfalme!
the Tiara
Kalibara is a king,
Our vow same
Is is the reason why
Yes, Kenan loves us,
Long live the King!
Zaidi majonzi,
Muda kuishi Kenan!
wakuu, binti wa mfalme,
Sisi ni furaha tele,
kwamba mali
Itashinda katika nchi zote!
More sadness,
Long live Kenan!
Masters, daughters of the king,
We are delighted,
that wealth
Prevail in all countries!
Ad blocker interference detected!
Wikia is a free-to-use site that makes money from advertising. We have a modified experience for viewers using ad blockers

Wikia is not accessible if you've made further modifications. Remove the custom ad blocker rule(s) and the page will load as expected.